Today we would take a look at the cities millennials are moving to with the pandemic recession upon us. People have started moving around the country from places that have been hardest hit by this economic downturn. And it's going to continue to grow at a faster pace. I'm sure these people will be looking for work and a better place to live. A majority of those moving are going to be millennials.
They're the ones who are in the prime working years of the life cycle. We have the greatest generation. They're pretty much almost gone. Baby boomers are mostly retired by now. Some of us are starting to look at retirement in the coming years. That sort of shows that the possible upcoming migration, at least the bulk of them, will be millennials. So where have they been moving
A lot has changed in the last decade when it comes to where young adults are moving to. This list will give you an idea of where the migration hot spots are and will probably be for the next decade or so. Well, lucky for us, the census has a nice list that shows us exactly where working adults are heading and why.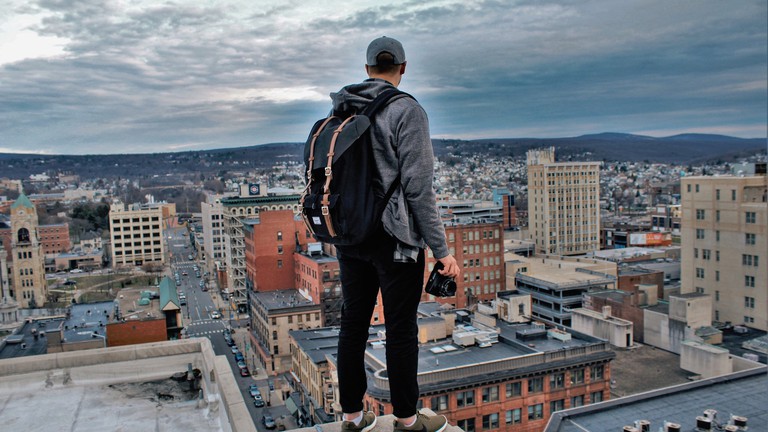 10. Columbus, Ohio
Columbus, Ohio, founded in 1816. The city of Columbus is Ohio State capital. Columbus comes in as the tenth state where millennials are moving to one of Columbus biggest draws. It ain't Cleveland that draws a lot of people in with a net migration of about two thousand seven hundred fifty on average the last five years, individuals between the age of twenty five to thirty nine are moving here. Millennials may be interested in moving to Columbus because the housing costs are generally more reasonable than in many other large cities.
In the United States, the cost of living is 10 percent lower than the national average and you could get a decent home for somewhere between one hundred and fifty to two hundred and fifty. Sure, the $150 one's going to need some work and they might not be in the best neighborhood, but they're livable. It's not like, you know, there's a police crime scene tape wrapped around the whole building.
9. Paradise, Nevada
Nevada. Most people have never heard of paradise. Nevada, you probably know where it is, but you think it's Las Vegas. Most of the Las Vegas Strip is actually paradise. Nevada, Vegas is the stone thing down on Fremont Street area and all that with the casinos down there. But the strip, for the most part, is paradise. Nevada working adults have been moving to this area at a good clip for about a decade now.
Paradise has just under two hundred and fifty thousand residents, with the Vegas metro area having about two million two hundred thousand. I know a few people that fall into this category. My friend Kimmy is one of those people. She's from Oregon and she moved to Vegas a couple of years ago. She's got a YouTube channel called Kimmy to explore. She explores Vegas and the desert. It's kind of neat. There was a net migration of about two thousand eight hundred millennials on average over the last five years
You can get a condo in paradise or a duplex. We're under two hundred thousand two hundred fifty to two hundred thousand somewhere in there. But you probably should be ready to pay about 350000 and up if you want a decent home.
7. Nashville, Tennessee
Forget all the Tennessee stereotypes when you visit Nashville. They have their own stereotypes that are is equally as weird. But Nashville is a great city and is one of those places that is attracting a lot of people because the culture and the lifestyle. Nashville has about 700000 residents with about two million in the metro area. I like visiting Nashville. It's one of those cities you go visit when you don't want to visit, like New York, L.A., Miami, Vegas, things like that.
This is an amazing American city. Thirteen thousand millennials move to Nashville, Tennessee, in twenty nineteen, and the cost of living has a lot to do with them moving in there. Their cost of living is five percent lower than the national average. Nashville's average millennial growth is about thirty-two hundred millennials a year.
5. Charlotte, North Carolina
Now this one's been getting really popular in the last few years. Charlotte carries the nickname of the Queen City because it was. Named after King George, the third wife, Queen Charlotte, millennials have been making their way to Charlotte, North Carolina, by the truckload in recent years. In 2017, there was a net migration of five thousand millennials to this city. That was a big year. On average, they see about thirty-eight hundred more millennials move in and move out.
Livable homes here can be as low as two hundred thousand, but you should probably expect to be getting a mortgage of over I'd say three hundred thousand. Charlotte is a great city. It has a lot of things to do. A decent airport, a cost of living that's six percent lower than the national average, and they got jobs. It's a good city to live in.
3. Austin, Texas
Austin, Texas is the state capital. And like Portland, Oregon, their motto is to keep it weird. I think Austin didn't have it. First, though, Austin isn't anything like the rest of Texas politically, which is fine. I just think it's something you should be aware of if that type of thing matters to you. In my opinion, it shouldn't. But to each their own.
Austin has just under one million residents with the metro area have it about two point two million. Almost sixteen thousand millennials moved to Austin in 2019, while about ten thousand left, which is a little bit higher than their average, which lands about fifty-six hundred a year. Why are Millennials heading to Austin? Good schools, lifestyle, housing all play a part, but the main reason is an opportunity. The income per capita is twenty-five percent higher than the national average and unemployment is twenty-two percent lower than the national average.
When it comes to buying a home, expect your realtor to be offering you houses north of three hundred thousand. They have a few below that. But more than likely you're looking at a mortgage between three hundred and fifty to four hundred and fifty thousand. I will tell you one thing. They have beautiful homes there that are amazing.
8. Phoenix, Arizona
Phoenix has about one point seven million residents, and most of them have burned themself on a car seat at least once. And on average, they spend forty dollars a year on sunblock. About 15000 millennials moved to Phoenix from different states in twenty nineteen and only twelve thousand left the city. That means there was a net migration of three thousand millennials in two thousand nineteen.
Their cost of living is four percent lower than the national average.
6. Houston, Texas
Houston, Texas has a lot to offer millennials. A low cost of living, cheap housing, good schools, and a baseball team that cheats. Houston is the first of three Texas cities on this list. Texas has been doing things right for the last decade or so, and it's bringing people in. They've been stealing corporations from other states, just like the Astros steal signals. The cost of living in Houston is eight percent lower than the national average. And you can get a decent house for in between two hundred and two hundred fifty-thousand.
But they have some areas where five hundred thousand won't even get you into the neighborhood. They've got a big giant market that's very spread out. So, yeah, and it's a big city on average. Houston sees about thirty-three hundred new millennials every year.
4. San Antonio, Texas
San Antonio is a city I would recommend to any veteran that doesn't mind some heat. It can get hot here. This is a great city for anyone, but a little bit more for the military. San Antonio has some areas that you should probably avoid. They get pretty dangerous. All cities have them. San Antonio seems to be excelling in them in the last couple of years, but that's just certain areas. Stay away from them
You're fine. This city has a few nicknames. Two of my favorites are the Alamo City and Military City. The USA recently get the Alamo because the Alamo there and Military City USA is because San Antonio has one of the largest active and retired military populations in the country. Now, their entire population, not just military, is one point five million in the city alone in the metro area has about two point five million in two thousand nineteen eleven thousand millennials move from different states and a lot of that had to do with the cost living cost.
Living here is 12 percent lower than the national average. Now, when it comes to housing, if you find yourself looking at a house for one hundred and fifty thousand, which they have a lot of them there, don't buy that. Your life will be at risk. You want a decent house in a decent neighborhood. You're looking somewhere between two hundred fifty and three hundred fifty thousand. They have some beautiful homes in San Antonio.
2. Denver, Colorado
Denver has been on the popular migration city list since the nineteen nineties, probably even before then. Portland and Denver were always in the top five. Portland still in the top twenty, but disappeared from the top ten a couple of years back. Retirees and seniors have been moving to Denver since forever. And now we see millennials have flocked to the city in recent years. Denver has a little over seven hundred thousand residents, with the metro area having just under three million
On average, they see about sixty-three hundred more millennials move in than out. Most stats aren't great for Denver. Crime is up. They're not terrible, but it's sixty-seven percent higher than the national average. Housing is almost fifty percent higher. Schools aren't the greatest. They're not terrible. There's not great. So why are people moving there? The number one answer is always the same. The great outdoors. If you like being outside, this is your place.
1. Seattle, Washington
Seattle, Washington took the top this year for the same reason Denver was number two in the great outdoors they got a lot to do outdoors in and around Seattle the cost of living housing is more expensive but the schools are better the employment is lower and the average salary is higher and that's probably why more people moved here instead of Denver in 2019 close to 28,000 millennials moved to Seattle from different states 11,000 more millennials moved to Seattle in 2019 than actually moved out housing is where it gets rough here if you want an actual house, not a condo or something like that the starting price is going gonna be 750 000. the emerald city is expensive I would say the middle price range just by looking at Zillow and a couple of the other websites you're gonna wanna be ready to spend 850 000 to a million dollars for a house.
So that's today's list I hope you guys enjoyed it hope you got some information out of it. millennials are moving and they're gonna be on the move even more here in the coming months I'm sure in the next couple of years it's gonna be rough for a lot of us hope we'll all make it through.
Our Company
Choose Real Movers
as Your Moving Company
With Real Movers, moving is simple — Whether you are moving across the country or just across state lines, we put our customers first. By integrating the latest moving technology with personalized customer service, you can expect white-glove moving services other moving companies can't match. When you choose Real Movers as your moving company, you will enjoy a seamless and unforgettable moving experience.