Last Updated
May 13 2021
What makes Boise, Idaho, so unique and so attractive to so many? We're going to find out as we discover the top 10 things you should know before moving to Boise, Idaho.
Boise, Idaho, has been called the best place for millennials to live in the US. The city of 229,000 people is also one of the fastest-growing in the US, attracting transplants from states like California, Washington, and Oregon with its comparatively low cost of living, growing tech scene, and easy access to nature. A safe place to live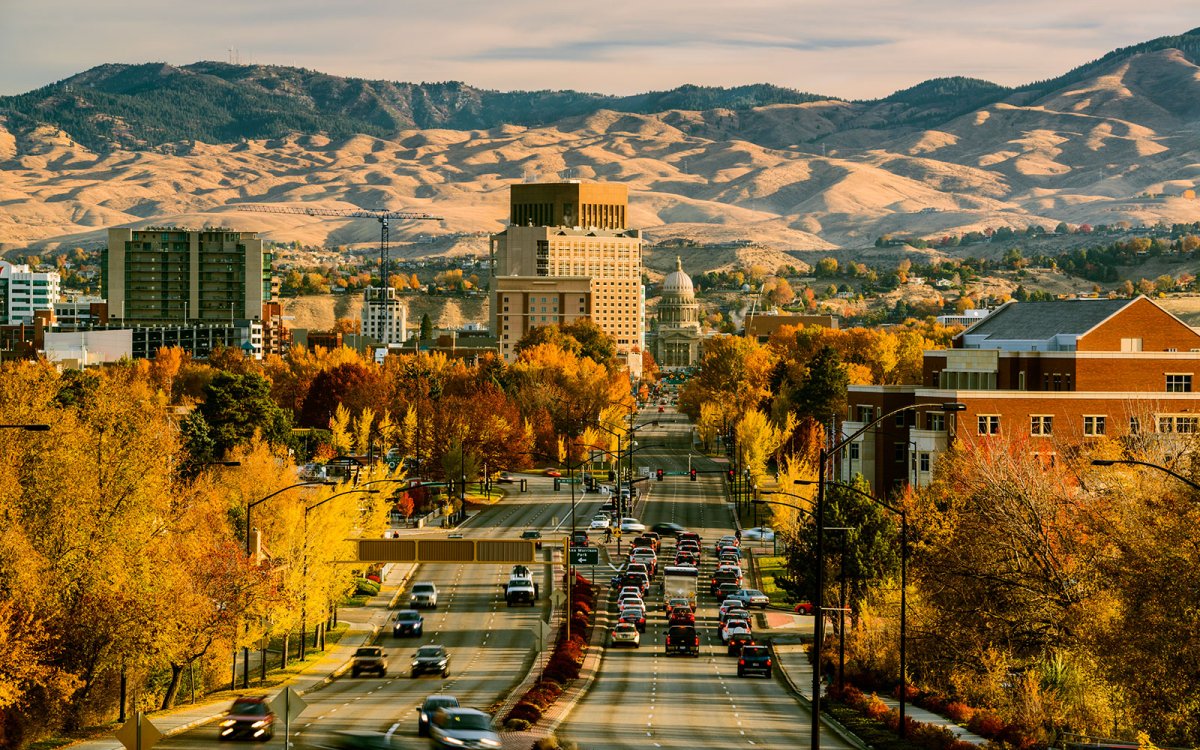 1. Blue Turf and surrounding Universities
The first thing you have to know about Boise is that we love our boots or you might hate it. We love it symbolizes Boise and it's also Boise State football. Boise State is not the only college in town. We also have CWI and a new College of Idaho and a couple of small colleges, Boise, Bible College, College of Osteopathic Medicine. So we're a growing city. Boise State does take center stage, but we love, love our Blue Turf.
2. Cost of living.
In Boise, the median rent for a 1 bedroom apartment is $719, and for a 2 bedroom apartment is $923. In general, in the past year, rental costs in Boise have increased by approximately 1.8%. Since rental expense makes up a significant part of the cost of living, you should consider this expense and how it might change when you calculate your cost of living in a new city.
-Four-person family monthly costs: 2,816.95$ without rent.
-A single person monthly costs: 798.14$ without rent.
-The cost of living index in Boise is 37.35% lower than in New York.
-Rent in Boise is, on average, 63.46% lower than in New York.
Restaurant Prices in Boise, are 17.71% lower than in California.
4. Best moving destination
this is the number one market for out-of-state homebuyers, the fastest-growing city in the USA in twenty-eighteen. Thirty percent of all home purchases are made with cash. Thirty percent of all home purchases are out of state. Sixty-two thirds of all new home purchases are new construction and according to livability.
This one's crazy. this is the best place for millennials.
5. The Greenbelt and the Boise River.
The Greenbelt and the Boise River. To understand how the two go together, you need to know that the Boise River starts on the east side of Boise and goes out all the way past all the cities to the other side of the valley.
Now, for twenty miles of that river, there's a path that's lined with trees and bridges and it goes across the Boise River in here and there. Twenty miles of that path is the greenbelt. Now, there are another ten miles of path that goes across bridges, shoots off, comes back super awesome. We love the greenbelt here in Boise. We love the river. You'll find people going down the river. It's just packed in the summer. It's a nice, leisurely ride from, you know, two, three-mile ride that's in the middle of summer
When people say, I moved to Boise, they don't necessarily mean Boise, that Boise is our central hub. That's where a lot of the denser population is. But right now, the growing communities are Boise, Meridian Star, Eagle Middleton, Caldwell Namba, CUNA.
That is the heart of the Treasure Valley. So when people say moving to Boise, they really mean to move into the Treasure Valley and those cities make up the Treasure Valley.
9. State and National Parks
we love our Idaho and national parks. We have 23 state parks, one state forest, 10 National Forest, two National Historic Forest, one National Recreation Area, two Metro, and city parks. Whether it's Eagle Island, Bogus Basin, Ponderosa Balance Rock, Sawtooth National Forest, the white clouds, Yellowstone, even Texas, and Idaho.
3. Outside and the Great Outdoors
we love being outside In the great outdoors, we've got water parks, we got rodeos, we've got hikes, we have Mount Sides and about 30 minutes to South Kalbi. Why he's with, you know, short waterfall hikes. We've got the mountains to the north. We've got camping. We've got all four seasons. Literally. We have two or three months of spring, three months of summer, two months of fall, two or three months of fall, three or four months of winter.
We have outdoor malls, indoor malls. We have two huge parks downtown and park. Julia Davis Park, super awesome. They host a lot of events. We have art in the park in the summer. And there's another thing called Spirit of Boise, which is a hot air balloon launch. They do a lot of things, including kids, families, all members of the community. There's Boto, which is our Boise downtown. Super easy to walk downtown.
6. Kayaking and Rafting.
We are within 45 minutes of some of the world's best rapids. Now, you might not be in the kayaking or rafting, but once you get here, you better try it. And if you travel another 45 minutes up the road, you can find another three or four or five different world-class rapids and the whole state of Idaho.
We have some of the world's best rapids right here that are local to us and we're proud of it.
7. Snow Skiing.
One of the coolest things about being downtown Boise in the winter is within 30 minutes you can be up on the hill skiing a bogus basin. In the wintertime, you're within two hours of three ski resorts and you can be hitting up fresh powder any time from November to April
8. Summer on the lake
We love our summer boating from about mid-May to about mid-September are some great months to hit the lake on the boat and enjoy wakeboarding, skiing, surfing, you name it.
10. Safe Community
we love our safe community. Now, this was voted in twenty eighteen as the eight safest cities in the world. Now, I'm sure that depends on who you ask which kind of statistic you run and what you measure that against.
So super safe, super safe city
Our Company
Choose Real Movers
as Your Moving Company
With Real Movers, moving is simple — Whether you are moving across the country or just across state lines, we put our customers first. By integrating the latest moving technology with personalized customer service, you can expect white-glove moving services other moving companies can't match. When you choose Real Movers as your moving company, you will enjoy a seamless and unforgettable moving experience.