A study was done by moving companies that detail where everyone moved last year and where they probably are moving this year. One of the top 10 states again this year in Idaho. The Gem state has been gaining popularity for the last decade or so. Real estate agents have been very busy all over Idaho. People aren't just moving to Boise. If you are one of the people thinking about picking up a mortgage in Idaho you should read this blog and see some of the cheaper towns to buy a new home in Idaho.
One of the top ten states again this year is Idaho. The gem state has been gaining popularity for the last decade or so. It's one of the favorite landing spots for California refugees. You know those people in California that have had enough? Now, I will be including locations that nobody's moving to, like little towns out in the sticks where you can buy a home for like ten thousand dollars. In the case of beer, those places nobody's moving to, so we won't be discussing them. This list is about cheap real estate in realistic places to move to where the average Joe, if you want a cheap place to get a mortgage in Idaho.
The good news is for people in Idaho, not a lot of the liberal-minded people are heading your way. A large majority of the people moving to Idaho from California are conservative, Republican-leaning fellow Americans like yourself. I know liberals are a big concern for the average Idaho resident.  We're going to look at the cheapest places in Idaho to buy a home.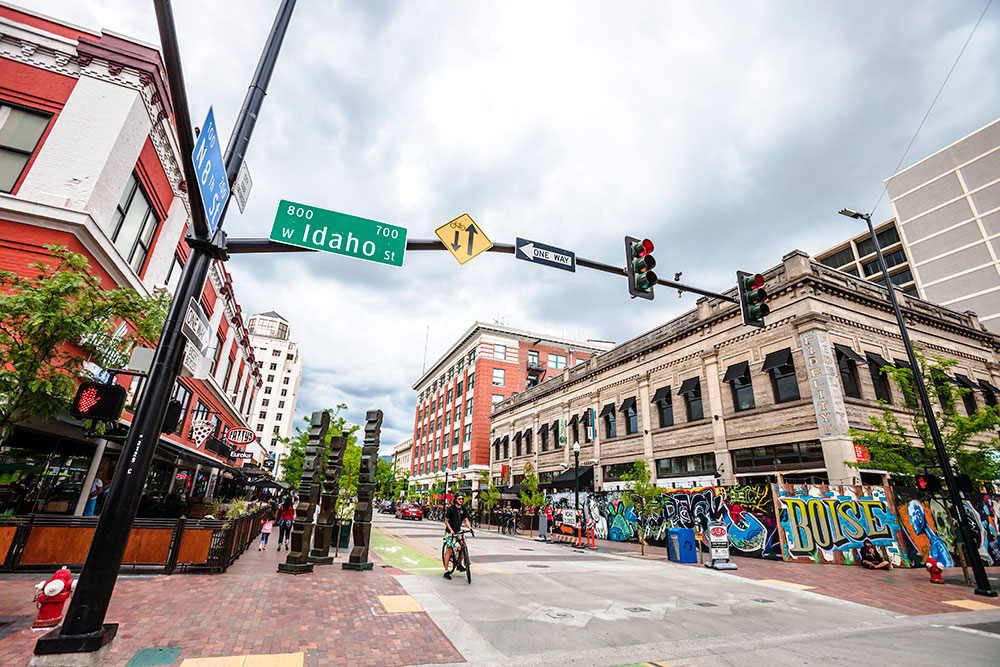 10. Ammon
Ammon is a smaller suburb just outside by the hopefuls. The property prices are affordable and the average rent isn't too shabby either. It's about seven hundred and sixty-one dollars for a two-bedroom apartment. So long is it? It's affordable and it's less than an hour's drive to get whatever you need. In the larger city of Idaho Falls, there are 22 public schools in Amman that have an A-minus rating that's solid, performing well above the national average. This is an excellent choice for people who want to raise a family.
It's safe and desirable. the schools don't suck, which is always good. This town will also offer you a very small chance of being run off the road for having a California license plate. So that's good. The median home price in Amman is one hundred and sixty-seven thousand dollars. 
9. Chubbuck
This is a nice little town just north of Pocatello. Chubbuck has a little mall and a few shops, but not the best shopping. So you're going to find yourself venturing out of trouble to get anything real and probably a lot of doctor's appointments and things like that. The crime rate is very low compared to other cities and everyone seems to know each other. 
So it's got that whole small-town vibe. The best thing about Chubbuck is living so close to the schools. There are several decent schools, including public, private, and Montessori. This is a great town for kids. Everyone seems to be very polite and respectful of each other. Everything is also within walking distance.
The median home price in Chubbuck is one hundred and fifty-eight thousand two hundred dollars
7. Twin Falls
Twin Falls has a little extra crime and not such great schools, but the house prices are incredible. Twin Falls is the best city by Idaho standards, but let's say by Michigan standards, this place is like a resort.
If you love the outdoors and you don't want a giant mortgage as you get in. I don't know, like Aspen, Colorado, this town is for you. Idaho is well known for its fishing and hunting. And there are a few places in the country that can actually match Twin Falls, the surrounding area, too. There is a massive salmon run that comes up the Snake River every single year, which attracts a bunch of dudes that like to fish.
There's also great skiing and snowboarding in the winter and a handful of resorts that are all within about an hour's drive of the place. The median home price in Twin Falls is hundred and forty-three thousand four hundred dollars. Not bad. And you get to go fishing.
5. Mountain Home
Mountain Home, Idaho Mountain Home is a great place to live, has an Air Force base about 20 minutes outside of town, and has its fair share of Air Force personnel, both past, and present, living there. This town is in the middle of miles and miles of farmland, and it's a great place to start a family with an affordable housing market and low cost of living. It's sort of a no-brainer. If you want a nice, quiet life that's affordable.
The schools aren't the best, but there are far worse places you can send your kids. Besides all the money you're going to save with the cost of living and mortgage payments, you can hire a tutor.
The median home price in Mountain Home is one hundred and thirty-two thousand four hundred dollars.
3. Caldwell
Caldwell is part of the Boise metro area and it's a very nice place to live. Overall, crime rates are extremely low in this area and life tends to move a lot slower than in other places around the country. What I like about this one is you're not out in the sticks when you start getting into the really inexpensive homes. It normally comes with a little crime, bad schools or it's out in the boondocks and nobody wants to live there. They only come up short in one stat.
Really. Caldwell isn't setting any records in education, but they have a low-cost living and it won't cost you an arm and a quadriceps to buy a house. Here, the median home price is one hundred and thirteen thousand dollars. One hundred thirteen thousand. That's great. Now, remember, these numbers are averages. I probably should have said this earlier. I like to give that disclaimer.
8. Kuna
Kuna is one of the best cities in Idaho. The crime rate is very low and KUNA and that's probably because pretty much everyone is packing, which always seems to help keep the crime low. Funny how that works. Humans aren't willing to rob someone at ATMs if there's a decent chance the intended victim has a gun on them.
You don't need to worry about getting jacked at an ATM in Kuna. The crime is very low, the weather is great, and most of the people are able to afford to live in KUNA, which normally isn't the case. When you have low crime and great weather, it's usually really expensive. Now there are quite a few restaurants and plenty of things to do there. Knowing where to go is a plus and that way you don't waste time looking for things to do.
Now, the only real knock on KUNA is the schools. They kind of suck. Statistically, the median home price in KUNA is hundred and forty-five thousand four hundred dollars. Not bad.
6. Pocatello
Pocatello started out from a fort that was near where present-day Pocatello is now on the Oregon Trail. At first, it was a place for fur trappers who could sell them.
And buy supplies, but then when the fur industry cooled down, they switched to supplying the immigrants heading west on the Oregon Trail. See, what happened was the pelts were bought in Europe, mostly by the French, and then that fell out of fashion and just destroyed the industry in the United States. Pretty weird. Thousands of immigrants pass through Idaho on the Oregon Trail and nobody really stopped until they discovered gold in 1860. All of a sudden, people start putting on the brakes and stopping in Idaho like the magic of gold has done in other places.
Pocatello has some crime and the schools give out more than a dude with Tourette's and a stutter who just stubbed his toe.
The job market isn't the best here either. But if you're retired or work via the Internet, the city is ideal. Now, the good news is if you work in transportation, Pocatello is known as the gateway to the northwest and it's pretty much a transportation hub. So you're in that field, a solid place. The median home price in Pocatello is one hundred thirty-five thousand five hundred dollars.
4. Blackfoot
Now Blackfoot has a lot of good. They got a little crime in the schools. Could do better, but the cost of living is cheap and the houses are really cheap. The median home price in Blackfoot is one hundred and twenty-one thousand five hundred dollars.
2. Emmett
It was basically a post office named after Emmett Callahan, the son of Tom Callahan, an early settler in the area. A few years later, they dropped the bill and the post office in town simply went by Emmett Nineteen hundred. The town was incorporated as Emmett later in March of nineteen to the Idaho Northern Railroad, came to the valley and so did all the people currently there. Listed about sixty-five hundred residents, but are estimated to be closer to seventy-five in the twenty census.
This is a small town that is growing. The cost of living is very, very low and Emmett and the home prices are even lower. This one has the potential to start growing faster so the prices will rise when that happens. But right now it's dirt cheap to live here and it's not a bad little town. They have a little canal that goes right through town. It's kind of cool.
1. Rupert
Rupert is located in southern Idaho between Pocatello and Twin Falls, It's a got population of about 5,600, and the median age is about 30, so the place is filled to the rim with millennials a lot of coffee drinking's going on there when you look at the stats the only thing that's bad here would be schools, they're not good at all, but when you got a town filled with a bunch of millennials who needs schooling that generation is a bunch of know-it-alls they'll tell you how it is, the median home price in Rupert 97 thousand dollars. you could buy a home for under $100,000 in this town. It's not bad. and the cost of living is pretty low.
Our Company
Choose Real Movers
as Your Moving Company
With Real Movers, moving is simple — Whether you are moving across the country or just across state lines, we put our customers first. By integrating the latest moving technology with personalized customer service, you can expect white-glove moving services other moving companies can't match. When you choose Real Movers as your moving company, you will enjoy a seamless and unforgettable moving experience.