Chattanooga is a city in southeastern Tennessee, that is set along the Tennessee River in the foothills of the Appalachian Mountains. Its trolley-like Incline Railway scales steep Lookout Mountain before reaching Ruby Falls waterfall and Rock City, featuring sweeping views, sandstone formations, and gardens. Point Park, also atop Lookout, marks the site of a Civil War battle now honored at the Battles for Chattanooga Museum.
You need to see if you've ever wondered what there is to do in Chattanooga, Tennessee, that you are in luck today. We're going to see and explore what makes Chattanooga a great place.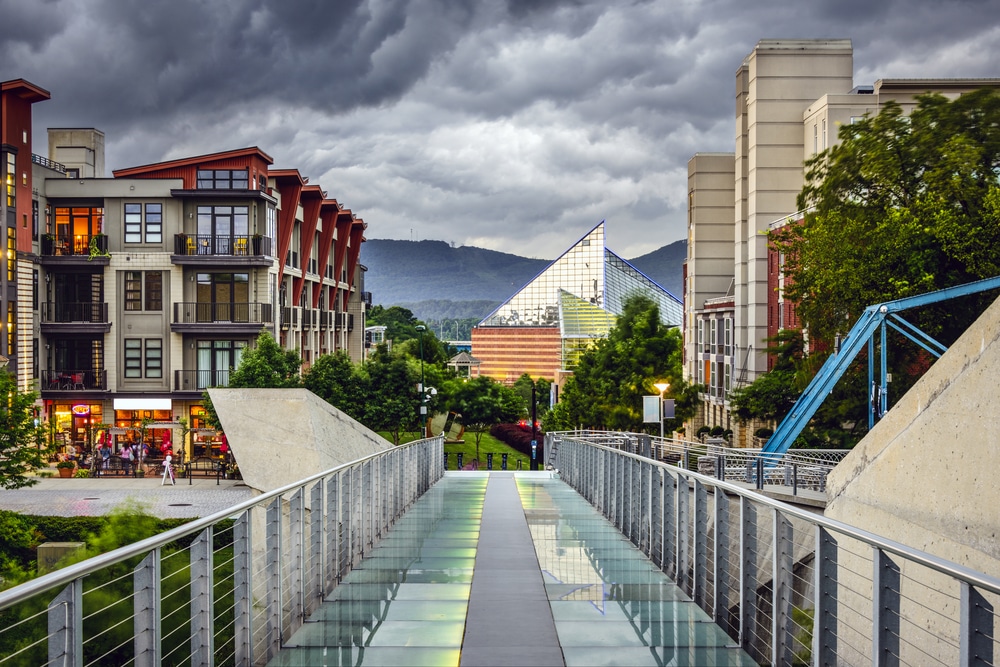 The city of Chattanooga has almost 180000 people and is known as the RiverCity cat town, the Newark NUGA, and it sits on the Tennessee River, located in southeastern Tennessee. Known for its natural beauty, world-class outdoor activities, and the highest Internet speeds in the United States, it's no wonder this city is growing fast and people spend a lot of time here.
So let's go ahead and take a look at the top 10 things that make Chattanooga a great place
10. The International Towing and Recovery Museum
Now, this makes the list because it's so different and a little weird, to be honest, I'm not sure I've ever seen a run across another museum like this.
But anyway, the Towing and Recovery Museum showcases the history of the towing industry and has exhibits containing different vintage tow vehicles and artifacts. Like I said, something different and interesting that you won't find in every city. I'm still trying to figure out if it's really cool or like I said, just a little weird. I think people who are into automobiles and transportation will find this interesting. There's also a nice plaque dedicated to those who lost their lives in the industry, which is really nice.
9. The Creative Discovery Museum
this is one of the best family-friendly destinations in Chattanooga. It will really keep the kids entertained all day. It's also been one of the top children's museums in the nation since opening in 1995. They get over 200000 visitors per year. There is so much to do here. They have an artist's studio, an excavation station for digging up dinosaur bones, and the theaters put on plates.
There's also a science theater play, gym, home school workshop, and spring and summer camps being on the river. There's also a spot inside the museum called Riversleigh where you can interact with sailboats, learn about locks and dams, and other fun stuff like that. So many activities to keep the kids busy and entertained all under one roof for one price of admission.
8. Walnut Street Bridge.
This is an iconic bridge in Chattanooga. The Walnut Street Bridge is the longest pedestrian bridge in the world, connecting downtown Chattanooga to the North Shore, constructed in 1890 and standing at 23, 876 feet. It was officially closed to traffic in 1978. It's since been designated a pedestrian bridge, but it does a lot more than that. Today, it hosts a bunch of events like the one over water, winetasting, and the Riverbed Country Music Festival while walking on the bridge, you will have excellent views of Chattanooga and the surrounding mountains.
7. Riverboat
So put on your floats and see the city from a whole new perspective from the water. But the Southern Belle Riverboat offers a sightseeing cruise on the Tennessee River while floating down the river.
You can have lunch or dinner. You could even ask for a tour of the pilothouse. It's really laid back and the people are really cool. This is one of the best ways to view the Chattanooga skyline, as well as Lookout Mountain and other city landmarks. There's also a burger bar with TV arcade games and other activities if you have kids who might not be into the scenery.
6. The Chickamauga and Chattanooga National Military Park
Chattanooga has a lot of history connected to the civil war.
This park is the oldest and largest in the country. It commemorates the 1863 battles for Chattanooga that marked a major turning point in the war. The national military park spans the borders of Georgia and Tennessee with portions and Chickamauga Lookout Mountain Missionary Ridge Orcharding and Signal Point. The park headquarters is located on the Chickamauga battlefield. Aside from the battlefield, you will find a visitor center that includes exhibits, the fuller gun collection, and maps of hiking and bike boots for the park.
5. Lookout Mountain
They were everywhere, Lookout Mountain has an elevation of almost 24 hundred feet and extends into parts of Georgia and Alabama. It is famous for many reasons, both history and its beautiful features that are popular attractions. On the mountain, you will find Ruby Falls. It is the world's largest underground waterfall at 145 feet and is also America's deepest commercial cave.
It's going underground and into a cave. Isn't really your thing. Then you should definitely check out Rock City. Rock City's got the best views of the city and has a 100-foot waterfall. There are so many things to do on Lookout Mountain. Aside from its breathtaking views, it's easy to get to buy a car or the incline railway.
4. Incline Railway
If you're looking for a unique way to get to the top of Lookout Mountain, this is not going to lie
It's a one-mile-long railway that goes up a very steep 72 percent grade that provides some of the best views of Chattanooga. A much better and cooler option to get to the top of Lookout Mountain than just driving.
3. Tennessee Aquarium
The place has spent hours and is worth every penny of admission. The Tennessee Aquarium opened in 1992 and has been a hot spot around the city for tours ever since. There are more than 12000 animals here with over 800 species. It has different sections called the River Journey and the Ocean Journey. The river journey is the world's largest freshwater exhibit. They have a lot of the stuff you love alligators, stingrays, sharks, and any kind of fish you could think of.
Getting through all these sections and exhibits will take a few hours, but a good feature is that a ticket is good for one day so you can leave it and come back if you have to. The aquarium is centrally located, making it easy to get to and build into your travel plans.
2. Tennessee Valley Railroad Museum
The railroad museum offers a moving real-life museum for its travelers to experience.
You will get on a 1930s steam train and learn about the history of the railroad as well as to where the scenic countryside, the grounds that the train travel is very important sites of the civil war, including going through the Missionary Ridge Tunnel. You'll learn about the historic battles and events that happened in the region while you're taking the tour. It's definitely something fun for all ages.
1. Coolidge Park
Now, there are so many fun and cool things to see in Chattanooga that it was hard to pick a number one.
Coolidge Park takes a spot because besides being an awesome park, it's a spot where you can visually see a lot of the attractions in this city. The park itself has a 100-year-old carousel, rock climbing military memorial, and numerous places to just hang out and relax while at the park. You will have spectacular views of Chattanooga. The Wall Street Bridge, as well as Lookout Mountain at night. The views are even better as the city lights up.
Our Company
Choose Real Movers
as Your Moving Company
With Real Movers, moving is simple — Whether you are moving across the country or just across state lines, we put our customers first. By integrating the latest moving technology with personalized customer service, you can expect white-glove moving services other moving companies can't match. When you choose Real Movers as your moving company, you will enjoy a seamless and unforgettable moving experience.