Denver, Colorado has been one of the country's fastest-growing big cities in recent years. It's easy to see why. Located along the Rocky Mountain Front Range, the Mile High City is surrounded by beautiful scenery and has direct access to some of the best skiing and mountain climbing in the world.
Denver has plenty going for it: progressive and innovative thinking; beautiful scenery; a healthy economy with an unemployment rate below 4 percent; many arts, culture, and professional sports offerings throughout the year; and, of course, its proximity to many of the world's best-known ski areas.
The Denver metro area has a population of more than 3.1 million residents, but the city itself 960,000 people Residents of Denver tend to be young, with a median age in Denver of 34. There's an even gender split in the city, and the majority of Denver residents are single.
Denver has a diverse population, with many ethnicities calling the city home. Its population is about 55% white and 30% Hispanic. The rest of the population is predominantly African American and Asian.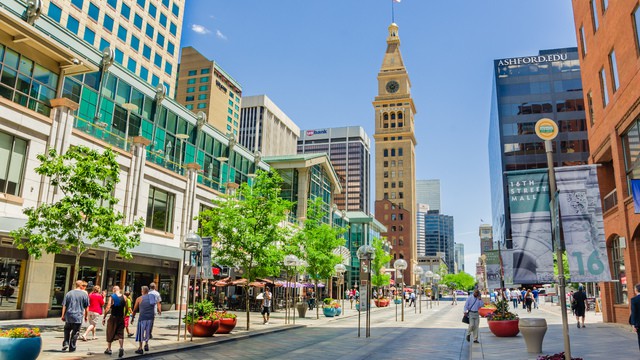 The Cost of Living Is Going Up
Among major U.S. cities, Denver's cost of living is somewhere near the middle of the pack. It's not nearly as expensive as Los Angeles or Boston (not to mention San Francisco or New York) but it isn't as cheap as the big cities in Texas. That being said, housing costs have been rising rapidly in recent years, so this could be changing.
While living in Denver is much more affordable than living in places like Los Angeles, it's still relatively pricey. For instance, the median home cost in Denver is $421,900, which just about doubles the national average of $216,200.
According to data from HowMuch.net, in order to comfortably afford to live in any city in Colorado, you have to earn a whopping $100,200 yearly salary. This works out to earning between $6,000-8,300 per month.
Still unsure what to expect? Don't worry. We've got 10 more reasons why you should move to Denver.
We're going to look at the positive side of Denver
10. Clean Streets
One of the first things you will notice about anything is if it's dirty or not. Thankfully, Denver residents don't have to worry about dirty streets filled with trash and leaves for most of the year.
The city has street sweepers from April to November. During this time, keep an eye out for street signs which say you can't park here during certain days and certain times or you're going to get a big fat ticket. Nobody wants a big fat ticket. Now, it's common in most cities to have street sweepers.
Denver and my experience is one of the cleanest cities in the country. It's really nice. Now, if you're wondering why they don't have it from April to November, it makes no sense. It's, you know, bad weather snow and they probably won't be able to keep up with the leaves.
9. Gambling
Colorado has some strict gambling laws, luckily 30 miles away from Denver is Black Hawk in Central City, where gambling is legal and they do full-sized casinos like real casinos, not watered down versions that just have like blackjack and poker. These are full-on casinos.
8. Craft beer
Are you not a fan of Rand Beers, do you like beer that has tastes and not just some watery version? Good news. Denver goes big on craft beer. Denver has about 70 breweries. And the beer economy is doing well for Denver. The Mile High City is right behind Portland, Oregon, when it comes to the number of breweries.
If you're in Denver, go to Hogshead Brewery and try the Imperial Stout. If you like the dark beer, I'm telling you, it's worth going out of your way for and their food's pretty good there to give it a shot.
7. Scenery
The Mile High City is a beautiful place to live in the West, you've got breathtaking views of the mountains. You'll be able to spot Mount Evans Gray's peak. And if you look to the east, you'll be able to see Kansas and Nebraska. Yeah, never mind that one. They suck in the scenery department. Unless, of course, you like cornfields and grass fires. Then by all means look east, but you probably keep looking west.
Those mountains are great.
6. The Food Scene
Denver is the next big foodie city in the country. I promise you, and I hate the word foodie like I've said many times before, but I just got to use it. Since 2019, over 400 restaurants and food trucks have opened up in the city.
Three good places to go to Senior Bear El Taco, The Mexico, and the Denver Deep Dish for pizza. Three of my favorite restaurants. Now, full disclosure, there are about five really good ones that were recommended to me that people love.
5. Schools
Denver has some really good public schools, high schools within the city rank at almost 80 percent college readiness, which is substantially higher than other cities that size. If you don't know, that's how they grade high schools for the most part.
4. Skiing
If you ski, snowboard, build snowmen, or just like riding on ski lifts, move to Denver. All that stuff's just a short drive away. Winter Park is the longest-running ski resort in Colorado, and it's located just an hour outside of Denver. However, if you're willing to take a little bit longer of a drive, Vail Mountain has over five thousand acres of ski slopes. I mean, I really shouldn't have to tell 90 percent of you that you could ski in Colorado.
3. Jobs
Denver is a good place to go for a job. They have a lot of them. The city's unemployment rate is extremely low at two point three percent, and the jobs actually pay pretty good. The city's average annual income is about fifty-three thousand per year, which is higher than the national average. The good news is all the jobs aren't seasonal.
2. weed
Colorado became one of the first states to legalize cannabis since the legalization, it's given thirty-five thousand residents new jobs and has generated roughly six hundred and seventeen million signatures, 70 million, and 40 million of that has gone to reconstructing schools.
Six hundred. Seventeen million. That's a lot of weed. However, while this may be a deal-breaker on your decision whether to live in Denver or the whole state of Colorado, it's good to note that only 13 percent of Denver residents actually use cannabis.
1.  Outdoor recreation and Sun
Denver's one of the best cities for outdoor enthusiasts, besides a nice drive and some skiing, you could take a pedal boat across Smith Lake in Washington Park or hike the mile-high trail in City Park. There's an endless amount of activities to do in Denver, while outdoors you get a heavy dose of sun.
Are you considering moving to Denver Colorado? Maybe you're planning on relocating to Denver with your family? We here to help. Get a free quote from us.
Our Company
Choose Real Movers
as Your Moving Company
With Real Movers, moving is simple — Whether you are moving across the country or just across state lines, we put our customers first. By integrating the latest moving technology with personalized customer service, you can expect white-glove moving services other moving companies can't match. When you choose Real Movers as your moving company, you will enjoy a seamless and unforgettable moving experience.