Last Update,
February 2021
Tennessee is the 36th largest and 16th most populous state among 50 states. Here are the top 10 best places to work and live with family in Tennessee. In this post, the population, median house value, median household income, and unemployment rate are taken into consideration along with the crime rate.
These are The Best Places to live in Tennessee based on crime, education, job, housing, and things to do.
But just like every other state, Tennessee has a mix of larger urban areas (Memphis and Nashville, for example) as well as many small communities that are a nice escape from the hustle and bustle of the big city.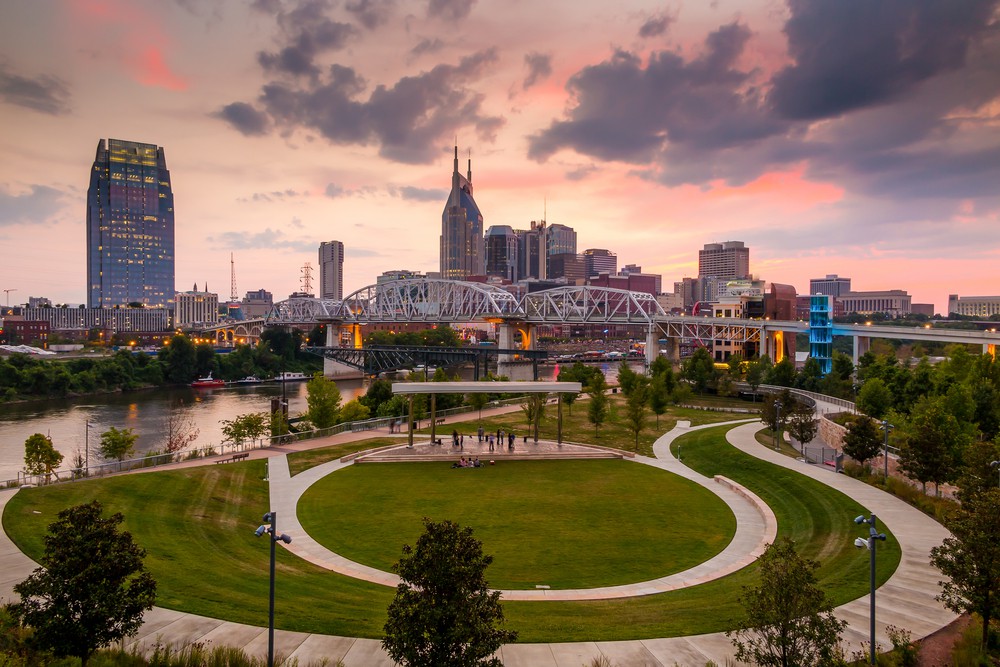 10. Hendersonville
The school system in this County town is right up there, alright, in case that's a swaying factor for you as you look for a nice place to settle in The Volunteer State. This suburb of Nashville lies on the shores of Old Hickory Lake, a section of the Cumberland River. Suffice to say there is a good deal of water activity you can enjoy here, be it swimming, fishing, skiing, boating, or relaxing on the beach, with 26 miles of shoreline to talk about.
There are also numerous parks in the area, as well as natural and historic landmarks that guarantee a plethora of recreation options to keep everyone satisfied. The Streets of Indian Lake is an entertainment complex that features over 30 restaurants and shops, meaning you don't necessarily have to hit the big city for a little bit of fun.
9. Spring Hill
Spring Hill is a town near the city of Nashville that is located in Maury County. It has transformed from a sleepy little town into a thriving urban center with a robust and balanced economy exploding with jobs.
There are almost 33,000 people living in Spring Hill, one of the fastest-growing towns in the state. This explains the high incomes enjoyed by residents in Spring Hill, averaging $78,588 per household.
This, coupled with nice schools in the area, makes this town an ideal place for families and anyone on the hunt for well-paying employment opportunities. And who isn't, right?
7. Oak Ridge
Oak Ridge traces its roots back to the 1940s when it was built as part of the Manhattan Project funded by the federal government. In the late 1950s, it became an independent civilian city, and as we speak, the population has grown to 29,300.
Oak Ridge has one of the lowest crime rates in the state. And with home prices averaging $149,800 (and rent $732 a month) it is not hard to see why many people are flocking to Tennessee to put down roots for good.
5. Nolensville
Nolensville is one of the best places to live in Tennessee, no doubt, but its small size makes it ideal for those looking for a town with a close-knit community. Little wonder it remains a hot preference for families with children – it is one of the places with the highest percentage of growing families, a matter of fact.
Properties are some of the highest-priced in the state, averaging $316,200, but that is perhaps because Nolensville sits between two of the largest metro areas in Tennessee, Nashville, and Murfreesboro.
There are excellent schools in the area, with a booming local economy that sees the residents take home $108,549 on average per household. 
3. Germantown
Another constant feature of many best places to live in Tennessee, Germantown should be the first place you look if you are planning to live in the Memphis area.
The cost of living is low, and housing is affordable ($288,500). The income is one of the highest in the state ($109,464) and the crime rate is doesn't make for a constant feature on the evening news.
The schools in Germantown have the strongest rating among the school districts out near the city, yet close enough for multiple ideal spots for a date night.
8. Chattanooga
Chattanooga, a city in southeastern Tennessee, is set along the Tennessee River in the foothills of the Appalachian Mountains. Its trolleylike Incline Railway scales steep Lookout Mountain before reaching Ruby Falls waterfall and Rock City, featuring sweeping views, sandstone formations, and gardens. Point Park, also atop Lookout, marks the site of a Civil War battle now honored at the Battles for Chattanooga Museum.
6. Murfreesboro
If your idea of a nice place to live is an upcoming town with an absolutely booming economy, your heart would love it in Murfreesboro. It has been recognized as a standout city in The Volunteer State, with lots of promise to offer.
The high population might have you believe this is a concrete jungle, but quite on the contrary. Murfreesboro is chock full of parks and greenways, the latter of which stretch for 12 miles, with more set to come.
As an added perk, the cost of living is enticingly attractive, with rent averaging $876 a month while properties are priced at $181,900. Single-family homes, yes. With a fair share of condos.
4. Collierville
Regarded as a suburb of Memphis, Collierville is located approximately 30 miles outside the downtown area.
Families take home a staggering $110,084 on average, and when you take the cost of living into account, you can't really help but marvel at the affordable life in the state of Tennessee as a whole.
Homes fetch at an attractive $272,800, which is just about the cost of a gorgeous three-bedroom mansion – nestled in one of the state's most desirable areas, lest you forget.
2. Franklin
Franklin, a town also located in the desirable Williamson County that is home to 68,500 residents.
The median home value is significantly lower than Brentwood's at $321,400. And while household incomes cannot come close to Brentwood's $141,833 (triple the state average), they are not peanuts either ($85,671).
The area has been recognized nationally for its fabulous schools and an abundance of nice community opportunities.
Franklin also provides a glimpse of American history through its intense historic sites relating to the Civil War, with a much-loved downtown. With over 200 eateries to choose from, you won't find as many restaurants bunched together in a single location in Tennessee as you will in Franklin.
1. Brentwood
Brentwood is one of the most reputable addresses in The Volunteer State. The affluent suburb is renowned for its verdure and rolling hills. If you know of any country music stars and athletes who live or own a home in Tennessee, there is a big chance they live here.
With 13 parks in the area, including Smith Park which boasts over 400 acres of open fields, and plenty of walking trails, it promises an awful lot on the outdoor activity scene.
Brentwood, however, boasts one of the highest costs of living in the entire state, with home prices ($506,300) dwarfing those in most other towns. But many argue that the neighborhood does deliver plenty of bang for the buck, with the added bonus being its proximity to the Nashville International Airport.
Our Company
Choose Real Movers
as Your Moving Company
With Real Movers, moving is simple — Whether you are moving across the country or just across state lines, we put our customers first. By integrating the latest moving technology with personalized customer service, you can expect white-glove moving services other moving companies can't match. When you choose Real Movers as your moving company, you will enjoy a seamless and unforgettable moving experience.